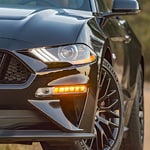 Anyone that is interested in purchasing a sports car needs to consider the Ford Mustang. This is an ultimate high-performance vehicle that has a reputation for quality, style and engine performance. The 2020 model year will once again impress anyone due to the great performance features that it provides.
The 2020 Ford Mustang will come with a very impressive 5.2-liter supercharged V8 engine that is then coupled with a seven-speed transmission. For the first time ever, you will also receive a dual-clutch transmission, which will give you even more control when switching gears at high speeds. When you select this engine option, you can get over 525 horsepower and more than 570 pound-feet of torque.
If you are interested in the Ford Mustang, you should contact Lasco Ford as soon as you can. When you come here, you can learn more about all of the options that the Mustang has and even test-drive for yourself.