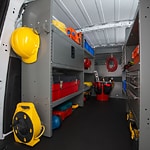 When the weather changes, you can rely on a Ford Transit because this dependable passenger/cargo van has practical seasonal features. This blog post breaks down the features that provide convenience during the summer and winter.
Summer Cargo Options
If you buy a Ford Transit from Lasco Ford for a summer vacation, you'll appreciate its cargo options. For example, thanks to the low flooring in cabin, the process of loading cargo is never a hassle. Also, because the seats in the second row fold down, you can easily increase storage for essentials during a summer vacation while traveling in a Ford Transit.
Solutions for Harsh Weather
When the temperature rises, you can stay comfortable in the Ford Transit by letting cool air circulate through the vista roof. If the sun is shining intensely, the power shade can reduce the heat. On cold days, the Quickclear windshield defroster can eliminate snow, mist, or ice on the windshield.