Welcome to the Lasco Ford Gerber Collision Body Shop & Collision Center.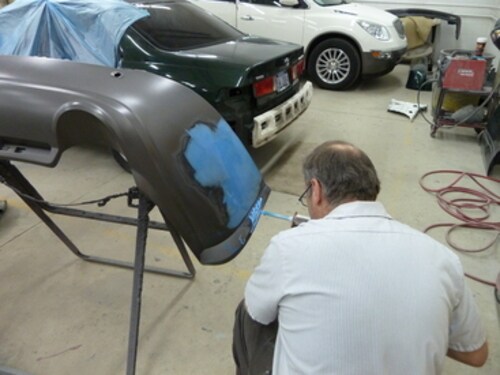 Get Your Ford Back into Shape at Our Body Shop at Lasco Ford
Sometimes accidents happen. You get caught in a fender bender, a runaway shopping cart scrapes across your car, or you back into something that takes out one of your taillights. Misfortune comes in many forms, but your friends here at Lasco Ford are here to help you and your car bounce back. Our body shop is available to perform professional collision repair. We even offer glass repair and roadside assistance to help you get your car back into pre-accident shape. So, if you're ready to get your car back into tip-top shape, feel free to give us a call.
Why Choose Our Body Shop?
Our state-of-the-art body shop is equipped to handle a wide range of repairs. Does your car have a few dents, dings, or scratches? Our body shop can help you deal with minor cosmetic issues to get your car looking like it did when it first rolled off the lot. Did a collision leave your car with major damage? We can handle that too! We have specialized tools and equipment along with OEM parts to help our team of trained technicians provide your car with the repairs that it needs.
Gerber Collision and Glass Repair
Our collision center is prepared to tackle scratch repair, chassis repair, body repair, frame alignment, and much more to help you get your car back into shape. We can also replace or repair windshields and windows to make your car whole again. If a collision or a fateful encounter with something flying off the back of someone's truck left your car's glass looking worse for wear, we can fix it for you.
If you need any help getting your Ford up and running, let our team of pros at Lasco Ford help. We look forward to serving you!
Discover All That Lasco Ford Can Do To Keep Your Car Running Smoothly Safely Around Michigan
When it comes to proper vehicle maintenance and car-care, Lasco Ford is a name that drivers in the area know they can really trust. Between our state-of-the-art service department in Fenton, our multiple high-tech body shops found throughout Flint to Ann Arbor, and reliable Ford Roadside Assistance, there really is no need for you to look elsewhere if your car needs any work!
Ford-Certified Servicing That You Can Count On
Thanks to our luxurious new service center with completely 'green' facilities, our customers will reap the benefits of new equipment that allows for faster and cheaper servicing and maintenance than ever before. Simply by stopping by our service department here at Lasco Ford, we can offer you some compelling benefits like a free battery check, free engine-code diagnostic, free wheel-alignment inspection, free tire-tread checks, and an extensive checklist regarding the overall health of your Ford. We know you'll be thoroughly impressed by how comprehensive our services truly are.
Lasco Wright Brothers Body Shop in Fenton & Beyond
For major repairs and post-collision servicing work, our dealership is also the proud home of the Lasco Ford Wright Brothers Body Shop & Collision Center here in Fenton, MI. Our partnership with Wright Brothers Collision has allowed us to dramatically expand the capabilities of our service department, and we have even expanded our locations too. In total, the Lasco Wright Brothers Body Shops can now be found in 7 locations throughout the state, ready to service all makes, models, and body styles of vehicles, both foreign and domestic! Our customers living in Flint, Holly, and beyond certainly don't have to look very far at all for a superb repair shop.
Lasco Ford Gerber Collision Body Shop Contact
* Indicates a required field