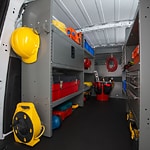 When the weather changes, you can rely on a Ford Transit because this dependable passenger/cargo van has practical seasonal features. This blog post breaks down the features that provide convenience during the summer and winter.
Summer Cargo Options
If you buy a Ford Transit from Lasco Ford for a summer vacation, you'll appreciate its cargo options. For example, thanks to the low flooring in cabin...
Read More