Keep Your Ford Running its Best with Routine Servicing
Many people underestimate the importance of routine maintenance, but oil changes, tire rotations, and brake inspections go a long way to make sure you will always enjoy driving your Ford in Flint, MI. The expert technicians in our Ford service center will make sure your vehicle stays in the best condition throughout your time of ownership when you choose our dealership to service and maintain your it.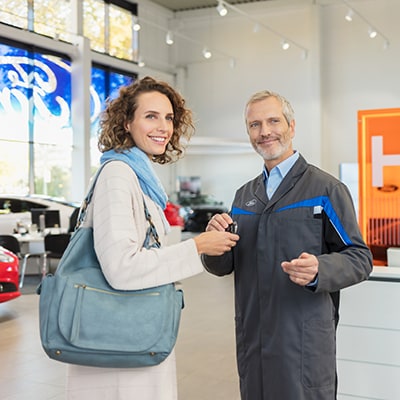 How Frequent Should My Routine Maintenance Appointments Be?
You should be getting routine maintenance for your Ford near Fenton, MI at roughly 3,000-mile intervals. While this is just a general guideline, your owner's manual or one of our Ford service technicians will be able to give you a more accurate distance between service appointments. You can make it easier on yourself to remember when you need a routine service appointment if you time it at the beginning of a season, then when seasons change you will know that you need another.
The Importance of Ford Oil Changes
Oil is essential to the proper function of an engine because it keeps the engine lubricated, at a moderate temperature, and clean, but when your oil gets dirty it isn't as good at doing its jobs. We don't want to see you having any engine problems because of something as small as an oil change, so be sure to visit our dealership soon for your routine Ford maintenance.
Our Experts Are Here to Help
If you still notice a problem after your routine maintenance, our experts can pinpoint where it is coming from. Our team has years of experience with Ford models near Holly, MI, which should help you feel confident bringing your vehicle to our service center. We want you to know that you are driving a reliable vehicle, which is why we look forward to seeing you whenever it needs some work.
Hours
Monday

8am-6pm

Tuesday

8am-6pm

Wednesday

8am-6pm

Thursday

8am-6pm

Friday

8am-6pm

Saturday

8am-2pm

Sunday

Closed